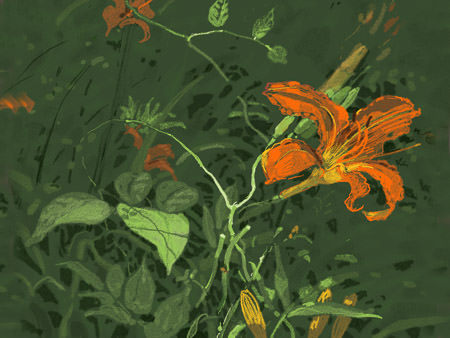 In the current digital age, plenty of traditional artists are moving toward the digital medium. You will also find many traditionalists who believe that digital is not an effective medium for producing art. And then there are also the countless digital artists who are intimidated by traditional media.
"Wid Lily" is a Decorative digital drawing depicting an orange lily, created in Photoshop with a pencil tool.
---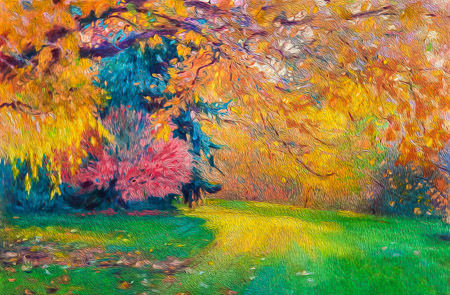 I think that art is art. Just like the different mediums that traditional art presents, digital art are yet another medium for artists. Each medium presents its advantages and disadvantages over others. While many people feel that traditional art media is dying out because of digital art or that it is becoming less necessary, this isn't true. I think that these are all nothing more than semantics. Traditional art in a digital world will always hold special relevance and retain its place in the world.
Pastel artwork is enhanced with a texture plugin for printing purposes to add extra dimension and cohesiveness to the artwork.
---
T

o Err is Human
Let's take a look at traditional art. Different mediums in traditional art allow you to develop a deep understanding of the materials and what you can do with them. It is all tangible. You can feel them, you can smell them, and it reflects light in a special way. Traditional art allows you to experiment in a more natural manner.

The colors you use in traditional art come through a mixture rather than simply picking one that works. Whether you're looking for a bright and lively purple or a dark and gloomy tone, you understand the true depth of the color purple as you mix blue and red in different ratios to get that perfect tone.
In addition, traditional media doesn't offer you the ability to press Ctrl+Z and erase your strokes. It is a more unforgiving medium. As the saying goes, "To err is human," and I feel that traditional art is more human than anything.
Paintbrush with red oil paint ready to apply on canvas.
---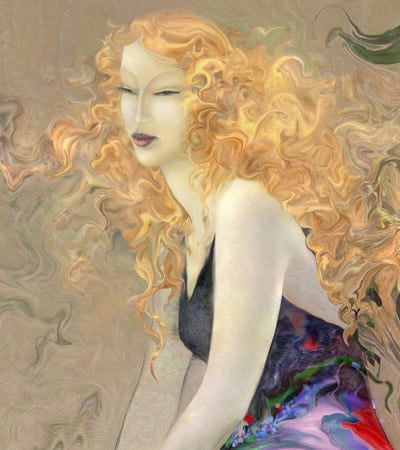 Change Is Vital; Improvement is the Logical Form of Change
At the same time, learning from your mistakes and continuously improving on what you can do are both important human qualities. That is where I feel digital art comes in.
Digital art is essentially just one medium. Yes, there might be different software with different capabilities, but the outcome is always digital. Ctrl+Z may present itself as an important tool for leaving no room for mistakes, but to others, it might seem like a crutch that keeps them from learning to paint rather than trying to get everything done just right.
It all becomes a matter of how you look at it. As far as the debate of which one of the two is better is concerned, I feel that the debate is inconsequential. Digital art is getting better at emulating traditional art. It may not have the same "tangible" results as traditional art does, but that doesn't take away from the fact that digital art opens doorways to opportunities that traditional art is too limited to take on.
"Angel Hair" - Digital artwork created in Photoshop using pencil and paintbrush tools combined with liquify plugin depicting a young, blond-hair girl in a traditional style
---
The Final Verdict
The importance of traditional art in a digital world cannot be undermined. While digital art might present opportunities that traditional art doesn't, traditional art is the basic crux where the skill for digital art developed.
Therefore, it's safe to say the digital vs. traditional debate is irrelevant. Art is art –whether traditional or otherwise. Traditional media is not dying in the digital era. Visit any gallery and take a look around. Digital art is still very new but has also cemented a place in the world. Neither of the two will cancel out the other.
As a visual artist, I work with both traditional media and digital media. I would never give either up for the other. Each of them allows me to express different ideas, emotions, and feelings in their own way, which is why I like and choose both.