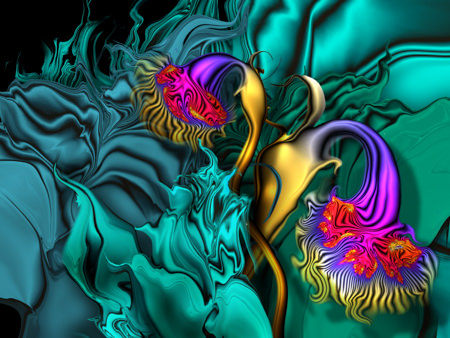 Definitions in the world of art are particularly curious things, especially when it comes to trying to place a finger on a particular movement in contemporary times. One of the most prominent aspects of contemporary art in this day and age is digital art. Being a visual artist for so long, I have never been someone to shy away from any and all mediums I can use to express myself and I am an avid digital artist myself.
In order to grasp exactly what is meant by digital art, I am going to focus less on trying to give it a formal definition and rather approach trying to explain it in a more practical manner – I will show you.
The 1980s and 1990s
The 80s and the 90s saw the very term "digital art" first start to encompass interactive environments which would see both the viewer and the artist at the interface between the real and digital worlds. It was a time when artists were focusing a lot on photo manipulation in order to create imagery through the help of computer software tools.
It was during this time that companies like the world-renowned Adobe (launched in 1982) came forth to create digital software solutions that could cater to the needs of these "digital artists". They created easy to use software tools like the Adobe
Illustrator
. The name might be familiar to a lot of you reading this since it is still one of the main programs used by computer artists to this day.
My personal involvement with digital art actually began right after I moved to the United States when a friend of mine introduced me to one of the earliest Apple computers. I was simply stricken by how you could miraculously fix a mistake by just using "⌘Z". I had already been practicing the conventional mediums for a while by the time I moved to the States but this opened up a whole new world of possibilities for me.

---
At the beginning with digital art, I used a digital art program called Corel Draw (another quite prominent digital art tool to this day). It was initially released in
1989 and it still is one of the most powerful tools for digital artists for Windows-based computers.
Like most other artists at the time, soon I started to work only on the Macintosh computer as soon as I got my hands on one and used Adobe products on it.
With passing time, the complexity of the different software grew as well as the possibilities they opened up. I started to get more and more experimental with dimensional layers and hues coming into the mix with the images I took. In the beginning, even a single line took a lot of time and effort. It wasn't as simple as making a mark on a paper, each of the curves was created using the anchor points and manipulating them with a pen tool.
As difficult as it was, I was fascinated by the technology and I created several figure-related digital artworks using Adobe Illustrator.
Now, with the likes of electronic pens, graphics tablets like the Wacom and iPads, the process of digital art is pretty much the same as the real drawing experience – only, the possibilities truly have become endless.
The figure drawings I worked on as I was starting out were the reason why I was able to land the job I had as a full-time art director in LA and to get the first few exhibitions I had at art galleries based in New York.
Digital Arts Magazine noticed the work I was making and they published an article on it.
---

---
Beyond the 1990s
From the 90s and onwards, the medium of digital art drastically improved. The improvements and upgrades to the technology were very gradual and everybody was able to keep up with the learning curve with the developing medium. Nowadays, it is a lot more difficult to follow the upgrades.
As things stand, Adobe is the major player in the industry. In fact, Adobe sets the industry standards – not just in graphics editing but in the whole of the digital arts as a medium. The introduction of the Creative Cloud branding, Photoshop's licensing scheme changed so that the software was no longer something you can buy; it became software as a rental model.
The speed with which the changes started to happen became quite fast at one point and required more and more learning. At the same time, the selection of all the tools and possibilities with digital art widened so much. A lot of people found it confusing and almost impossible to keep up.
At this point in time, there is so much to work with. Artists have the option to develop their personalized workflow and they can create a personal style unlike any other. As someone who has been in the thick of it from the beginning, even I have evolved my practice in digital art over the years. I love the fact that digital art is so diverse that it can cater to my experimental nature as a visual artist and I can do almost anything I want.
There are several tools and options digital artists can use. I will list here some basic combinations.
---
Creating Digital Art with Traditional Tools
T
here are so many tools across different digital media platforms. For those with more traditional inclinations, there are tools that actually emulate traditional art tools in a digital medium with quite some accuracy. You get to use tools like brushes, pastels, pencils and so much more through digital media.

---
Manipulating Digital Creations with Filters and Plugins
Apart from the standard operations that are offered by Adobe Illustrator, Photoshop and other digital art tools, there are additional plugins and filters which you can use in order to accentuate and enhance your digital creations.
---
Combining Photography Elements with Digital Art Tools
In these works of art, you can see how I was able to utilize both elements of photography and elements from digital art tools to create resolved works of art. All of them involved the use of photography, but through the additional use of digital art tools, I was able to turn them into something else entirely in terms of the final visual.
On this first artwork, Girl with Red Hat, I started with an outline of a photograph and combined it with a free-drawn line drawing on iPad. For Bird of Death (an older image), I used a photograph of a burst fitness ball and manipulated it with the Liquify tool. Glance is a combination of a young girl's portrait with a digitally created intricate overlapping pattern resembling lace and hair, which I created starting with only straight lines.
Turning Photographs into Artistic Style Images
These works really highlight the aspect of endless possibilities when it comes to digital art. There are plugins out there that can help you achieve a certain look. Instead of actively adding elements to the photographs I have taken, I was able to use filters and plugins to change these photographs into works of art completely.
My favorite plugins are Topaz Lab, Nik Collection, ON1 Effects, and intensify by Machpun Creative Kit. The results speak for themselves. One's style can improve by studying these plugins and taking advantage of their possibilities.
---
Post-Processing RAW Photography Images
Sometimes you do not need to add elements to an image to create digital art from your photographs. You can use post-processing of RAW format images to accentuate different aspects of it. RAW images are not meant to see as the final product as other formats like jpeg. When a camera captures RAW files, its sensor records the maximum amount of data it can so photographers have the highest image quality and can correct problems or manipulate it to create the image they want.
Take a look at these two images side by side. The one on the left is the original image captured in RAW format, and through photo manipulation, I was able to highlight all the dark areas, balance out the colors, add vibrance to it, and create an image that looks more realistic details. Depending on your artistic goals above adjusting basic lightness and saturation issues, with creative photo editing, you can develop a unique artistic photography style.

---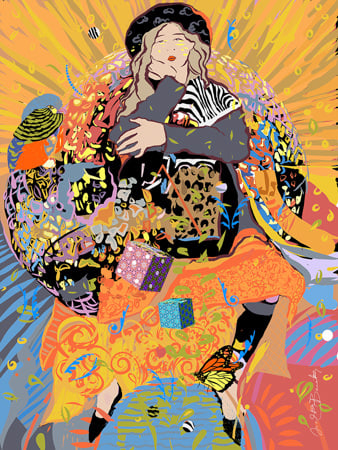 Lost in the Universe
My latest digital artwork essentially culminates my art practice when it comes to the digital work that I have done. It came forth on a very chaotic day.
Channeling all the emotions, I created this work called Lost in the Universe. The girl's face is covered with worry and sorrow. A similar pattern is scattered throughout the aura around her.
These are all elements that depict how the girl is unable to appreciate the immense beauty of everything around her due to the massive boulder of distractions. Indeed, we are Lost in the Universe.
Here you can read more about the inspiration behind the work
.
---
Final Thoughts
Digital art is not just a fad that has become a phase. On the contrary, it is an excellent addition to the spectrum of art media. The medium presents an unlimited set of opportunities and offers unparalleled opportunities in the design world. Digital art has come a long way since it started 30 years ago. I have been lucky enough to be one of the artists who started with digital work right when it began, and I have seen it develop and evolve my practice.
It is a pleasure to share my journey of 30 years of digital art making. I enjoyed being part of this new media from the beginning. It was and continues to be a fascinating journey.