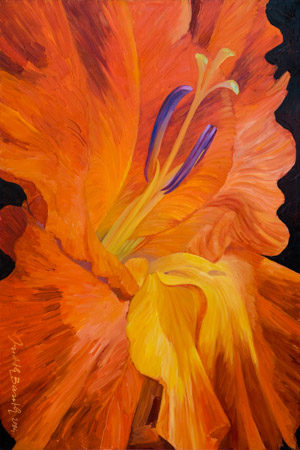 Either as the focal point or just as a meager detail in the background, flowers are known to represent a plethora of feelings and emotions. From desire, passion, and love to death, purity, and innocence, these original oil paintings for sale below represent and unfold life and its intricacies in all their glory. Painted using high-quality oils on various surfaces, 'Red-Hot Flower' is an amalgamation of passion, knowledge, and femininity. It distinguishes itself from other paintings in many ways. For one, the palette knife textured strokes bring rich and joyful colors to life.
The Red-Hot Flower calls you to awaken the knowledge of your inner self. It is like the bursting opening from the base of the flower, unfolding life and all of its fierce colors. It is a totem of passion and fervor. The silky smoothness represents its femininity, and the colors serve as the emotions it represents. While red symbolizes feelings of love and passion, the hint of yellow symbolizes joy and friendship.
The dark violet at the center contrasts perfectly well with hues of golden, yellow, orange, and red undertones. Amidst the burst of burning lava is the vibrant violet representing innocence and mysticism. This youthful violet may seem like it's all there is to it. But surrounding it and beneath it are all these layers of passion, love, and fierceness that make it what it is. Indeed, layers of colors, depths, and emotions make us who we are.
---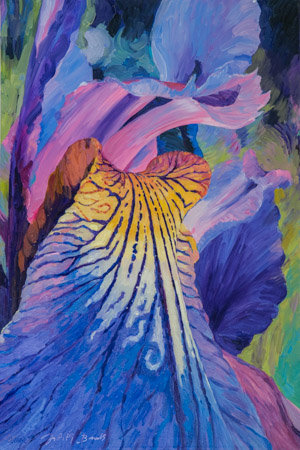 Purple irises are known to represent royalty and wisdom. They symbolize summer when flowers bloom amidst an array of bright colors. The artist has drawn each petal building up on blue and purple undertones very carefully with a plethora of brush strokes, so the observer can see it with just as much depth.
However, Iris has carried multiple meanings across cultures throughout history. For instance, it represented victory and power in ancient Egypt. In the medieval period, though, it was used as a charm to ward off evil.
It's a whole other mystery how the flower even got its name.
For some, it comes from the Greek goddess Iris who personifies the rainbow that connects the earth with the heavens. Here's the thing about the true essence of this flower. While many artists have strived to capture its elegant form, they've almost always captured a version of it.
A version they can attach their meaning to. There are way too many beautiful iterations of an Iris. Whether you see it as an object of nature or a religious symbol, you will certainly understand why it has endured as a favorite subject in art after all.
---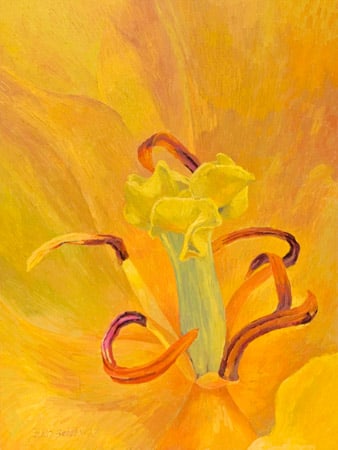 Made with oil paints using modern and classical methods, Stamina is the end-product of its environment. As an artist, exploring the space in which a flower is located is just as important as exploring the painting.
Here's the thing about studying it intensely. It tells you that beauty is always near, and respecting what surrounds us at all times is imperative if we are to reconnect with it genuinely. Nonetheless, we must slow down and look around us.
Engulfed in everything golden, the flower tries to break out of the norm but subtly. While the petals adhere to the flower's surroundings, the sepals emerge as different beings. They start adopting the same color before eventually adopting a different one and establishing their individuality. Even if they're all part of the same route, they must grow into their own colors.
As with everything else, Stamina also finds it perplexing to stay true to a single meaning. Why must it only convey one idea? Why must it limit itself to one interpretation? Aren't we all an amalgamation of the chaos within us? Of desires to break out of the norm? Of the need to take on our separate colors, even if we start from the same root?
---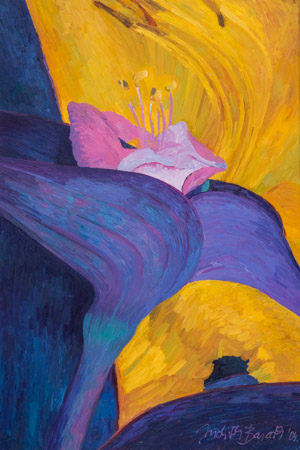 Over the last three centuries, art, science, culture, and literature have helped evolve and identify the color pink. Pink has a way of adding taste to everything. While it brightens up the rest of the works by simply existing as a hue in the background, this painting is all about giving it the spot it deserves.
Here it takes center stage, establishing its dominance over colors much more profound and brighter. 'Little Pink Flower' is emerging from a rather dominant purple with a well-established yellow in the background. Yet, it's marking its presence and letting its existence be known.
While cultures have always limited the color's identity to feminine associations, pink started as a genderless color. Over time, its increasing use among 'softer' toned colors became a norm. But today, it has decided to get out of its shell and take on the stage among its rivals. You may rarely find it in nature, but when you do, you often question yourself – Why are pink flowers so rare? Because if they weren't, how would they stand out from the rest?
---
Judith Barath Arts
Judith's undying passion for art and traveling is often reflected in even the simplest of her works. The exotic sights of nature have majorly inspired the creation of most of her artworks. Every art piece she creates, from an oil painting and digital art to a captured photo, demonstrates the depth and versatility of her skills and the story she collects throughout her expeditions. These original oil paintings for sale and are available for sale as prints on paper, canvas, acrylic, and more media types. Furthermore, the artwork is available in both framed and unframed varieties.
So, immerse yourself in the interpretation of Judith's art and allow your imagination to run wild by visiting her Nature Oils gallery page!
---