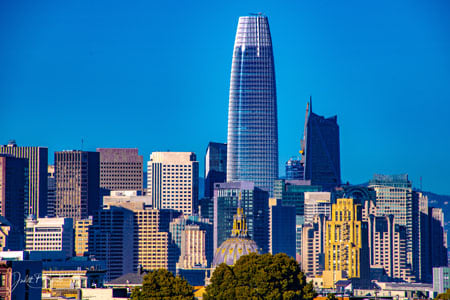 Don't you think it's intriguing how we all just live our lives and take all the things around us for granted? We get so used to the things around us that we stop paying attention to them and then changes begin to take place which catch our eye. Sometimes, the most significant changes take place but they happen so slowly that you barely notice them – until the point comes when you can't. Something comes forth, you have read about it or heard people talking about it and suddenly that thing is right at the forefront.
This happened with me when it came to the Salesforce Tower in San Francisco. It's not an event that happened, but a 1,070-foot tall skyscraper in the South of Market district in downtown San Francisco and it is such a sight to behold right now.
"Salesforce Tower from the Freeway"
---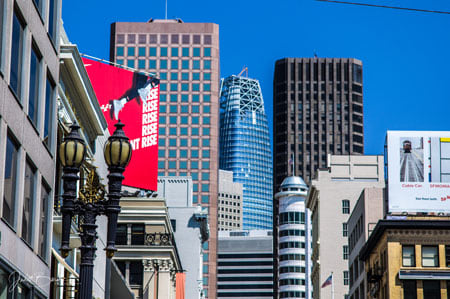 I like to think of myself as a visual person who is inspired by all that is around me. I like to notice all the little things in my surroundings because they provide some of the most amazing inspirations for my work. Over the course of the past decade, I've visited San Francisco several times. Since I've always had a thing for urban photography and landscape photography as an artist, I used to take a lot of photos of the gorgeous downtown view from my daughter's apartment.
Now, I didn't really see it happening but one fine day as I was photographing the views from the window, something caught my eye. There were plenty of cranes on the horizon and they started to really bother me because they disturbed the visual. Whenever I was talking downtown, this ugly structure would ruin the views for me and in taking my photographs I always tried to keep it out of the composition.
"View from Post Street-1"
---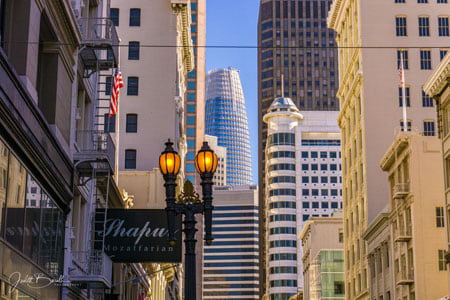 Eventually, this thing started to go higher and higher, standing out on the horizon. It was no longer just an annoying area in the whole visual – it was an exciting new structure that added to the beauty of the skyscraper landscape! At first, the Salesforce Tower in San Francisco was little more than an ugly structure hiding amidst the skyscraper jungle. The construction caused a lot of traffic issues and I'm sure that is the reason why many people might have known about it but I never knew much about it.
"View from Post Street-2"
---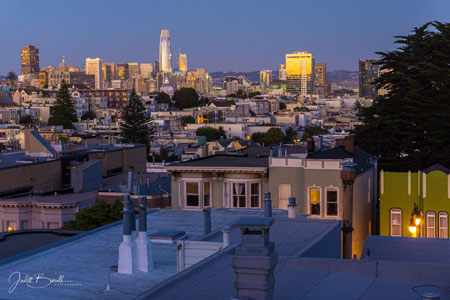 The Salesforce Tower in San Francisco eventually became so tall that it was impossible not to witness it. I felt drawn to this monumental structure and I wanted to put my urban photography skills to use so I could capture the beauty of it. The closer I got to it, however, the worse the traffic became. All I came back with were photos I took from a moving car.
The next day I was determined. I had made up my mind about getting the right photographs so I made my way downtown, found a costly but incredibly convenient parking spot and started walking around. I knew that this is as perfect a time as any to get some amazing shots of this beautiful structure.
"Downtown View from Waller Street"
---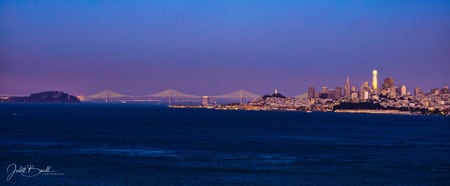 On the ground, it is almost impossible to get a good look at the Salesforce Tower because of the incredible size of the thing but that there was the beauty of it. The images I was able to take at the perspective really helped me discover a truly remarkable structure. Standing near the structure and witnessing the enormity of it also put things into perspective about how far we've come that we are able to create structures like this. It is sad that we get so used to these remarkable feats of ingenuity and engineering that we start taking them for granted.
"San Francisco Panorama
---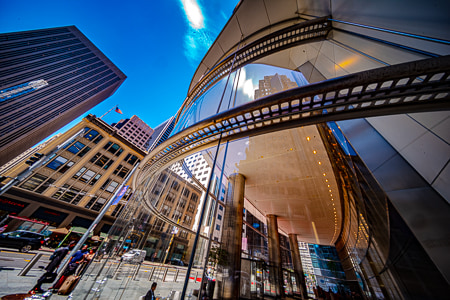 After getting a good fill of the view, I walked around some more. I saw people walking in and out of the Salesforce Tower San Francisco with coffee cups in their hands, opening the doors and closing them. Seeming more like an artwork than a building, it took me a while to register that life belongs to this place.
I did want to head into the building as well and experience what it is like from the inside but at the time, I just couldn't bring myself to it. I just didn't dare to try.
"Salesforce Tower from the street"
---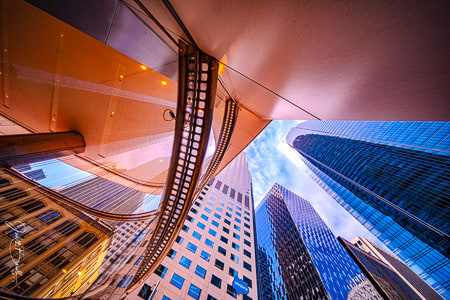 I still wonder what it might be like to get a view of the whole city from atop this towering structure in San Francisco. Perhaps next time!
The Salesforce Tower in San Francisco was such an inspiring discovery for me that I also painted a panorama of the San Francisco skyline
.
Be sure to
check it out
!
---
Enjoy a photographic journey of San Francisco! Check out this
album
!