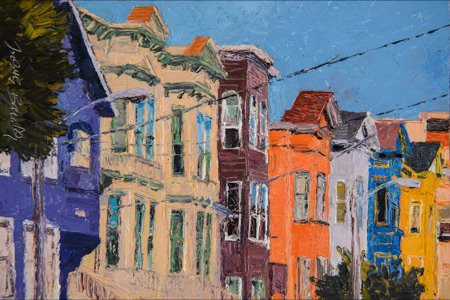 Judith's
unique and astounding cityscape oil paintings album presents captivating artistic renditions with spectacular color combinations and engaging compositions. The paintings give off a delightful vibe in contrast with brood and a mysterious atmosphere that captivates a viewers' attention. Most of the small palette knife paintings are of Judith's favorite cities painted beautifully on her panels to portray the bright, happy colors and the never-ending hustle-bustle of a city. These dynamic cityscape oil paintings promise a unique sense of an atmospheric urban zest.
Her rendition of a colorful, vibrant, and lively San Francisco portrays a bright and sunny day with an illuminating and sparkling set of colorful buildings. With proper attention to all the details, Judith has brilliantly painted all features of the Victorian structures, such as their gable
rooftops and large windows. The iconic power lines of San Francisco street that run from the foreground to the extreme back of the painting, and the lush leaves in the front, establish a perception of depth against a bright blue backdrop of the sky.
---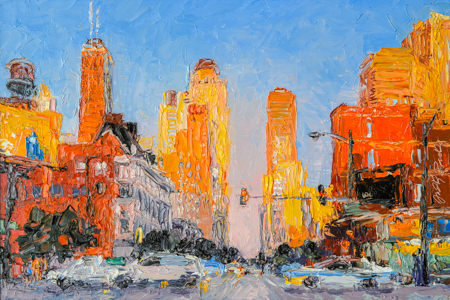 Some painting of Chicago skyline depicts its heavy traffic flow and the busy runny vibes by using specific unique techniques to create and achieve a hazy and obscure feel. Although it elaborates on the energetic character of the city, the sight of little or no human presence gives these paintings a haunting and striking visage. Deep colors of red, orange and bright yellow are utilized to indicate the setting of the sun, which adds up a warm tone that depicts Chicago's structural chaos in the paintings.
Judith has an incredible painted kaleidoscopic and psychedelic effect on some paintings by imposing colors on top of each other with gusty and confident strokes of the palette knife.
---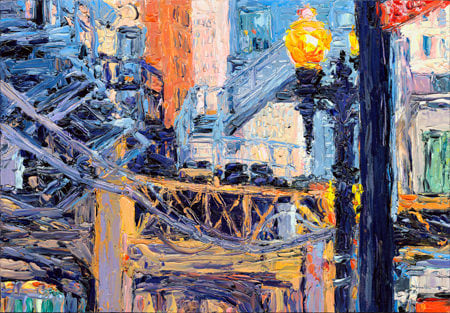 Judith has had an interest in all art forms from a very young age, this has led her to explore the depth and details in every art piece that she experiences. Her cityscape paintings aim to deliver a slightly abstract and surreal version of the atmosphere.
While staying committed to her unique, distinct, astonishingly eye-catching painting style, she successfully depicts the authentic surroundings of the cityscapes, leaving her viewers mesmerized.
---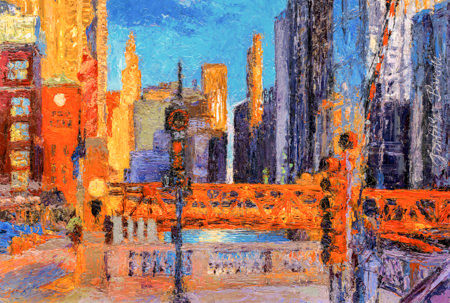 Apart from the apparent originality in her art, Judith focuses on capturing visuals that are aesthetically appealing with a subtle and sublime underlined context for an art enthusiast and observer to explore and indulge in. They are even better understood and appreciated by viewers who have been to the places in these paintings.
CHICAGO RIVER BRIDGES
---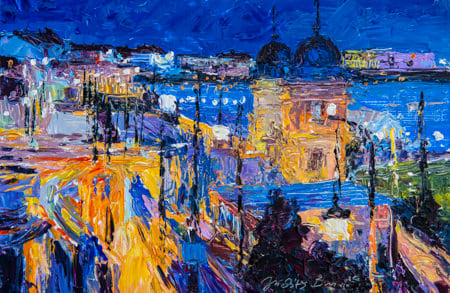 These cityscape paintings are available on high-quality fine art prints and offer a visual treat for everyone.