"The real voyage of discovery consists not in seeking new landscapes, but in having new eyes." Marcel Proust
---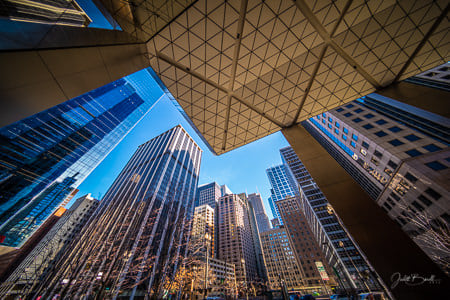 Have you ever wondered how much your perspective on certain things can make an impact on what you see and how it looks? Your perspective on something means everything for you to be able to make a decision about what you think of it. As a visual person who loves to feed her curiosity by looking at things in a different way to get a better idea of what she is looking at, I love to use photography as a tool to capture visuals in a way that you would normally never imagine: the worm's eye view.
Chicago Buildings
---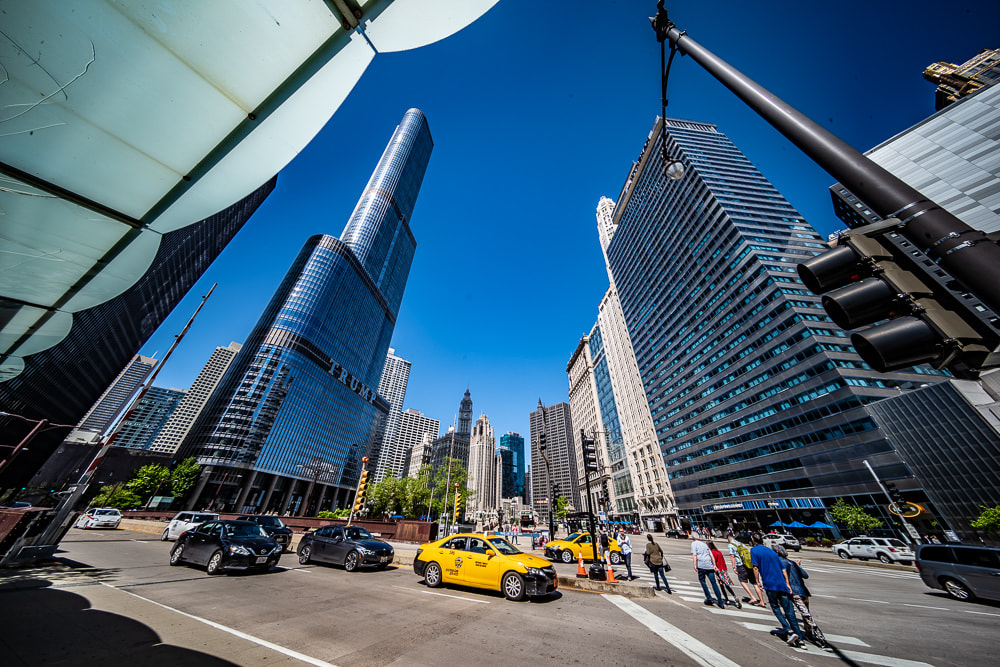 This series of photographs is going to focus on the worm's eye perspective of the beautiful city of Chicago to show you how much of a difference a simple change in where you see things can make. I have always been in love with the city of Chicago and the immense opportunities it provides for me to cater to my affinity for architectural photography. Looking at the city from the worm's eye point of view can drastically increase the scale of everything around you.
Chicago Downtown with the Trump Tower
---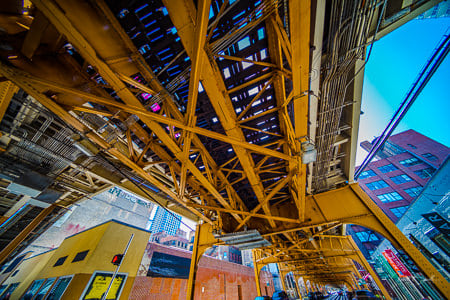 From what I would normally miss out on as I was walking around the streets of Chicago to witnessing such a raw and beautiful structure right there, just out of sight, this image showed me how much of an impact perspective can make. The underbelly of the 'L' train in Chicago in this particular part makes for a powerful composition. The yellow metallic structure underneath the rest of the train providing it the support it needs, often goes unnoticed because we are just too busy looking ahead of us and never above us. The zigzag lines and the leading lines disappearing into a vanishing point provide a good level of movement for the eyes across the composition, and they also invite the viewer to delve deeply into the image.
Chicago Loop from Below
---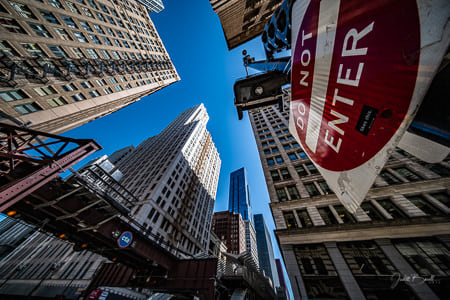 And then there is this image I took from a slightly different location. From the corner of one street right beside a "Do Not Enter" sign, you can see the already grand buildings magnified in scale due to the change in perspective. What makes the immense scale of these high-rise structures in this perspective in architectural photography really overgo the grandiose nature is the simple addition of a signboard within the composition. It doesn't just add a bit of vibrancy to the photograph; the worm's eye view makes this look much larger than life. Being closer to the viewer, the "Do Not Enter" sign seems larger than the buildings that rise hundreds of feet above it, which instills a certain intrigue in the photograph.
Do Not Enter Sign in Chicago
---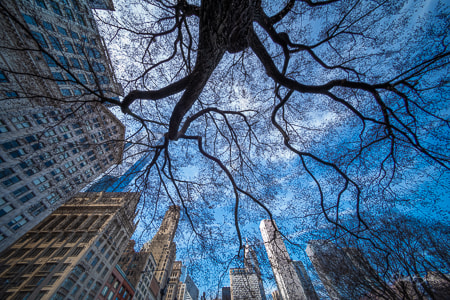 Take a look at this image I took while positioning the camera near the bottom of a tree and capturing several buildings right through to the top along with the tree. The change in perspective to a worm's eye view did one wonderful thing: It allowed me to add two entirely opposing visual elements into a single composition, which does not happen from a normal way of looking at things. From the trunk to the different branches and how they branch out even further into thinner fibers of wood stretched out and embellished with leaves – all with a background of high-rise buildings and an immaculate blue sky make a composition that can make you truly appreciate the beauty of nature and architecture. An image that symbolically reminds us of how nature still prevails even in the roughest of environments with concrete jungles, I find this an important image to look at and take in.
Tree and Skyscrapers in Chicago
---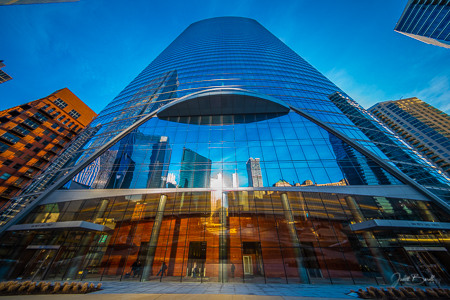 The light and colors from the golden hour in Chicago are something that makes this city an ethereal sight. With buildings made from glass like the one in the photograph above, you do not just see what is immediately in your line of sight but also a reflection of all that there is around you. The grandness of the structure, the depth of the skies, and the chaotic yet beautiful nature of different architectural styles amalgamate to create a fulfilling composition.
DLA Piper Building in Chicago
---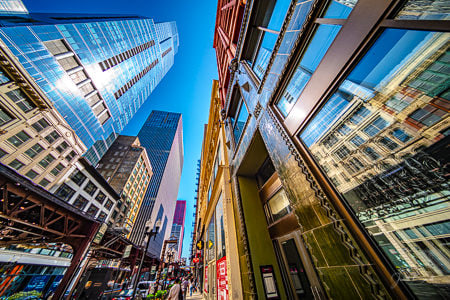 In the same vein, I feel that this photo has a similar effect. Taken at a completely different time of the day in a different location, with more happening in the composition. Several different elements of design come into play along with basic visuals, which capture the immediate structures and the reflection off of the windows and glass, highlighting everything else that isn't in your direct view. An enhancement to add more vibrancy to the photograph, and everything became more pronounced. I find it a visual treat to look at.
Reflections of Chicago Buildings on Wabash St Windows
---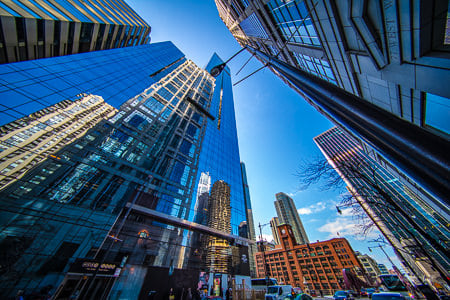 This series of photographs is close to me personally. With its rich history and beauty, the city of Chicago cannot be put into words. I have tried to do it justice by using the simple tool of photography.
It makes for the perfect addition to enhance the beauty of any indoor space as a series and each of these images as standalone pieces. It makes people wonder and strikes awe to realize that these are all images of something they have probably already looked at but never truly seen for what they are.
Chicago Buildings in Perspective