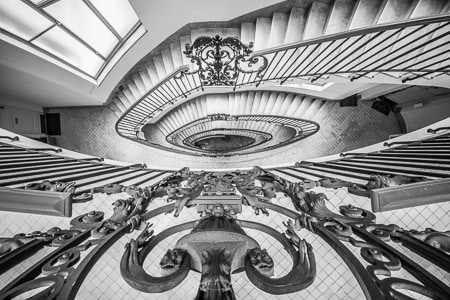 Kossuth Lajos Square 13-15, the Hungarian General Kőszénbánya building of MÁK began to build in 1927, in the design of Béla Málnai architect.
During a Budapest visit, I got fascinated with photographing the beautiful staircases of the inner-city buildings. This Neo-baroque style elliptical staircase with the elaborately designed wrought ironwork is one of them. I feel that my photographs in black and white can best delineate the fantastic achievement of the Hungarian architects of that epoch.
Kossuth Square 13-15 Neo-baroque Oval Staircase
---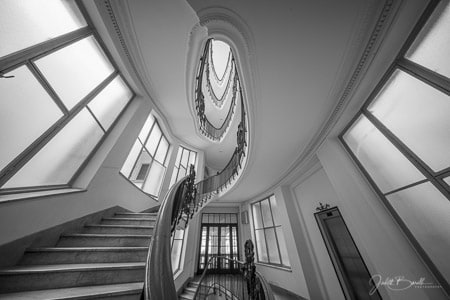 A more wide angle view of the Magnificent neo-baroque oval staircase with wrought ironwork and large glass windows in a Kossuth Square building, Budapest. There are a couple of more images on my Facebook post
Kossuth Square 13-15 Oval Staircase
---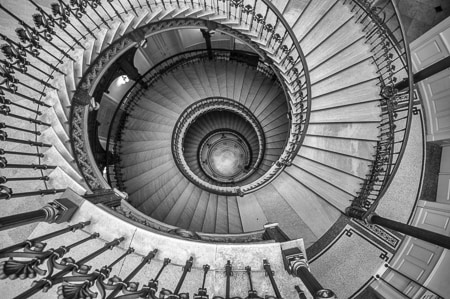 Miklos Ybl was one of Europe's most influential architects in the late nineteenth century. He designed Budapest many famous buildings influenced by Romantic, Romanesque Italian Rennessaince and neo-Rennesaince motifs. The Kecskemeti Street building is not open to the public, so I feel lucky I could have taken photographs that neo-renaissance staircase built for Pesti Hazai First Savings Bank in 1869. This staircase is one of the most beautiful in Budapest.
Ybl Palace Neo-rennessaince Spiral Staircase
---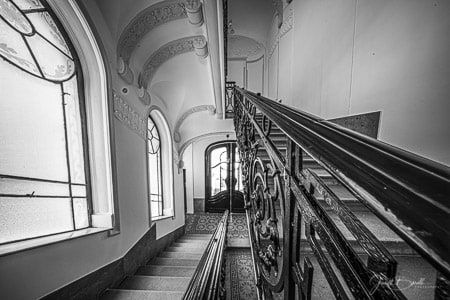 Art-Noveau style staircase in Budapest. The richly decorative details and wrought ironwork railings are remarkable. It was built for Emil Gerbaud and designed by Sandor Fellner around 1904.
Art-nouveau Staircase, 1 Duna St, Budapest
---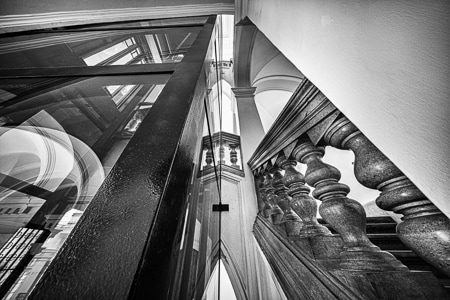 Black and white image of a beautiful staircase inside the former Karsai Palace, which later became Japanese Café, in Andrassy Street 45, Budapest
A grand structure lined with hallways, arches and staircases and traditional designs, this place was a treat for me in terms of black and white photography. Here I captured the details of the baluster railings and the reflections of arches on the modern glass- wall elevator. See more images of this staircase on my Facebook post
---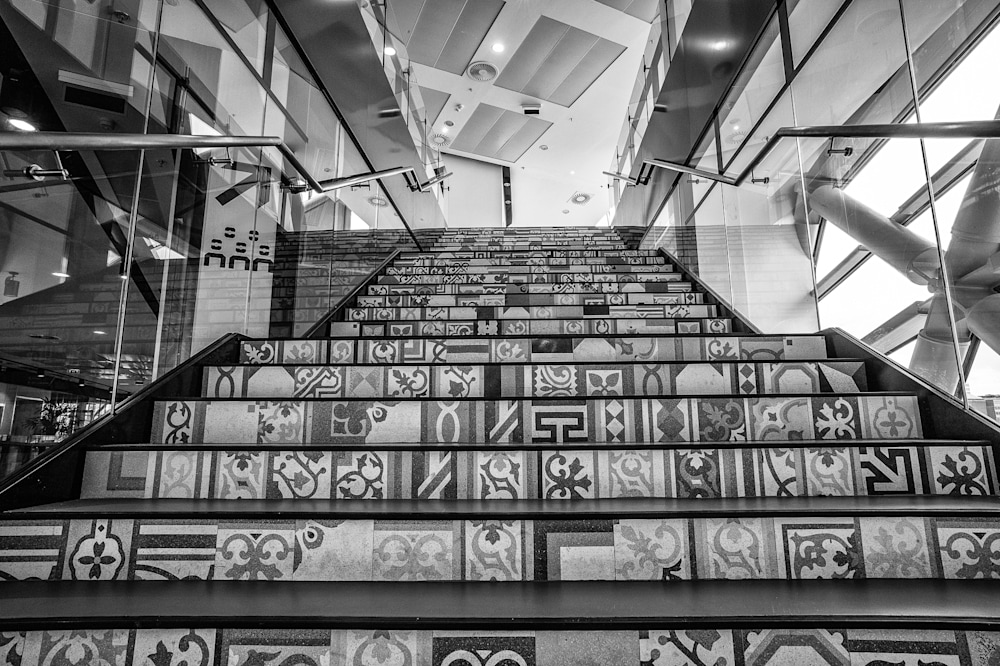 Budapest, the capital of Hungary, is not just known for its relics from the past, but it also features some of the latest, hi-tech and contemporary structures as well. The CET Building shows us the perfect example of that. Consisting of an amalgamation of old warehouses that have been restored and are now surrounded by a hi-tech structure, the CET Building is a remarkable feat of architecture featuring a whale-shaped structure and the staircases consist of highly ornate designs as a nod to the historic symbolism of the region.
Ceramic Ornamental Staircase, CET Building, Budapest
---
---
This series of images of staircases is the one closest to my heart for the sentimental value the city of Budapest holds for me and the various symbolic representations that these staircases depict. They are a wonderful addition to enhance the beauty of any indoor space and invites viewers to admire the beauty of architecture and black and white photography.